I expected The Awakening to be a much longer book. For all of the criticism and banning it gets, I expected it to be a pretty hefty book. Imagine my surprise when I was able to read the entire book in one afternoon. Most of my friends on GoodReads gave it four or five stars so I had high expectations. These expectations were so not met.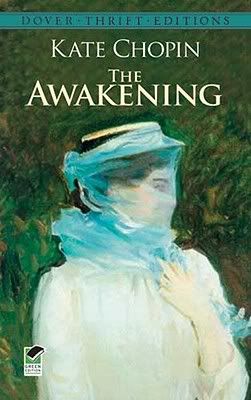 Publisher: Dover Publications
Where I Got It: Used Book Store
Dates I Read It: May 12, 2013
Read It For: The Classics Club, 2013 TBR Pile Challenge (October Selection- I do realize it's May...Don't ask), 1001 Book Challenge
The story is Edna Pontellier's and it begins whilst she is on vacation in Louisiana where she falls in love with Robert. Robert feels the same so he sets off for Mexico since Edna is married and has two children. Edna goes back home to New Orleans where she pines for Robert. Soon her husband goes away on business and sends the children to his mothers. For the first time Edna is able to be on her on with just herself and she's given plenty of time to consider her life and how she wants it to be. Having found a comfort in this independence she moves from her family home to a smaller one around the corner. She soon takes up with Alcee who is somewhat of the neighborhood player, yet Edna holds her own with him only to come undone after her affair with him. Robert returns to confess his love only to realize this mistake. He then leaves Edna a John Deere letter causing Edna to drown herself at the same beach that she first met Robert.
I did not like this book. I could not relate to the main character at all, which is unfortunate because I should have been able to fully connect to her as someone who has always craved independence myself. Edna was very unlikable. I wanted desperately to be fond of her, but the character development was exceedingly lacking for me.
It was not just Edna that I did not like; I also did not particularly care for the story. I had a high anticipation for this particular book as there are so many positive reviews, it was banned which is always a plus for any book, it was shocking when first published, it was about a young woman's sexual awakening- what's not to love? Well, for starters I did not care for the writing style. I normally like the naturalism approach, yet this one bored me to tears. I personally found that the book was not all that shocking. I kept comparing the book to one of my favorite books dealing with marital infidelity: Anna Karenina. While making this comparison I found Anna to be much more shocking. I felt connected to Anna and Vronsky and Daisy and every single character in Anna, yet I can barely even remember the characters names in The Awakening (and not just because they were French/Creole!). There was not much story to the story. It felt like the book built to a crescendo only to let the reader down in the end. I wanted to feel more remorseful over Edna's suicide, yet I just didn't care enough about her, or any of the other characters really, to give a damn. I did really like the one part where her husband thought that she was going crazy and got a good chuckle out of that, but that is about it. There was no anticipation to the novel for me. It
was
a page turner, but only because I wanted it to be over with. If the book were longer, I probably wouldn't have finished it. I did end up giving the book three out of five stars (it was okay) only because of the impact that the novel had on feminism and feminist literature. I'm just grateful that all feminist literature are not like this one.